Conference System made easy for us to arrange meeting easily. Olefins Trade Corporation offer you top quality conference system at affordable price in Bangladesh.
These systems are perfectly designed to accommodate your conference meetings. Whether you need for the regional meetings, seminars or any type of indoor or outdoor meetings, our systems are best suited for each customer's need.
Being a reputable supplier of conference system in BD, it is our foremost responsibility to deliver our customers a quality product which perfectly matches their need and demand. We understand that every individual in meeting has right to share his comment and this could be possible only with powerful conference system.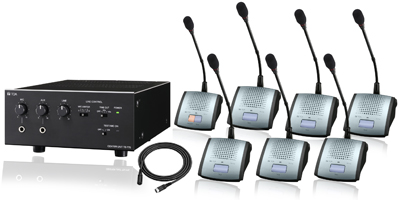 What is TOA conference system?
We brought conference system of famous brand TOA in Bangladesh. It is a renowned Japanese brand and a market leader in sound system industry.
The portability, scalable and powerful conference system ensures clear and quality sound to every participant. Each conference systems have a microphone and loudspeakers for chair and delegates.
Additionally, the scalability of the system allows having separate mic for every individual for adding comments during discussion. The nature microphones are different for chairman and delegation.
The chairman unit has the ability to control the delegation mics. Check the portfolio page for our clients, who trust on us to setup conference system.
Recent Works:
 TOA Available Models
Currently, we have 2 conference system models available. Both systems have plug and play features. However, one system is for the small conference having few numbers of attendees.
While the second model is TS- 780 Series and it is best for the large conferences. It is powerful and has capacity to connect up-to 3 central units. Additionally, the ability to record the conference in SD card eliminates the problem of manually taking notes.
Our system comes in both wire and wireless capabilities. If you have a dedicated conference hall and planning to install the system, then you should go with the wired solutions. The chair and delegation units can be fixed with table for better experiences.
On the other hand, if your room uses for different purpose then we recommend having the wireless solution. The delegate units will use rechargeable batteries which has very long timing.
---
---
---
Following are the detail of both conference systems. Please thoroughly review each of them before purchasing. If you are still not sure which one to buy then don't worry about it. Just call us at our contact number and we will be more than happy to assist you.
You can check our sound systems product and other brand's conference system Here.
You may also like:
Logitech Video Conference Advice
Digital Door Lock Price in Bangladesh