Bosch empowers you to build a safer and more secure world. Protecting lives, buildings, and assets is our aim. We sell Bosch brand security items like Bosch conference systems, Bosch Public Address Systems, Bosch sound systems,s and many more Bosch products at the best price. We import, sell and repair Bosch products. If you want to know the price please call our hotline at 01719-300-940; 01979-300940 or  02-55020006
Bosch has two types of conference systems one is a wired conference system another is a wireless conference system.
BOSCH CCS 1000 Ultro Discussion System is a wired conference system. It's a very popular model conference system in Bangladesh.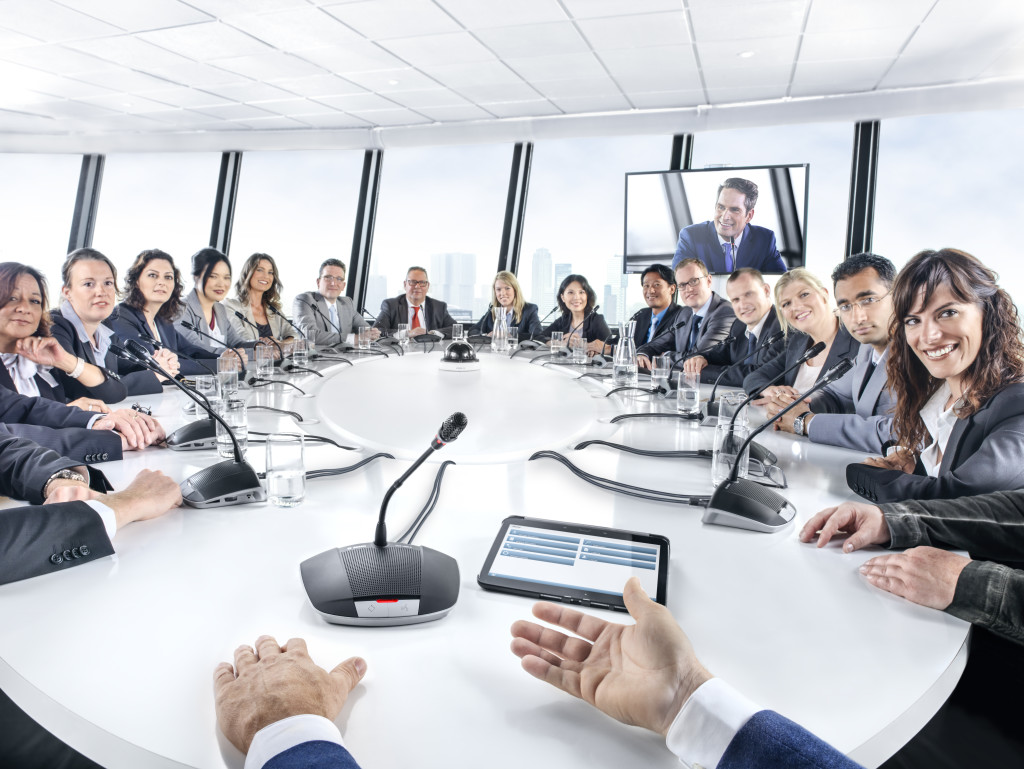 The CCS 1000 D Digital Discussion System is compact, easy to set up, and easy to use. Yet it provides advanced features and exceptional versatility. Designed especially for quick, plug-and-play installation, it is ideal for small-to-medium-scale fixed meeting areas such as town halls, local business centers, and courtrooms as well as for rental companies who can use it for their day-to-day mobile set-ups.
If you want to know more details please click this link.
Advanced configuration and Control System:
For more advanced control of the meeting, the chairperson can connect a laptop, tablet or PC to the system providing the ability to manage the discussions. The web browser enables advanced setup configuration including camera control and audio output configuration. It also enables the maximum number of active microphones to be set to 10.
Excellent speech intelligibility:
CCS 1000 D delivers excellent speech intelligibility thanks to advanced digital audio processing and superior microphone and loudspeaker performance. The loudspeaker and microphone are activated simultaneously to create a more natural face-to-face meeting feel. The system also utilizes built-in Digital Acoustic Feedback Suppression (DAFS) so you can reach higher volumes without causing any 'howling'.
Recording with confidence – always:
The system can digitally record and playback more than 4,000 hours of discussion using a single 128GB USB stick and also record up to eight hours of discussion on its built-in internal memory. Recording and playback are done via either the Control Unit or the web browser.
HD Camera control system:
Up to six HD cameras can be easily connected to the system without needing additional software. The resulting video will always present a crisp, clear image of the active speaker.
Energy saving mode:
CCS 1000 D includes a unique "Energy saving mode" that automatically switches the system off after two hours of inactivity to save energy and prolong the system's lifetime.
Compact Design:
The system is very quick and easy to install. No training or additional equipment is needed: the discussion devices are directly plugged into the control unit via a simple 'daisy chain' cable connection.
yet versatile:
Meeting control is possible using a laptop or tablet via the system's web browser. Live video of active speakers can be shown on a big screen, thanks to the system's native support for automatic camera control. In addition, the audio of the whole meeting can be recorded conveniently with the built-in MP3 recorder, which makes it possible to archive meetings electronically and avoids the need to manually record meeting minutes.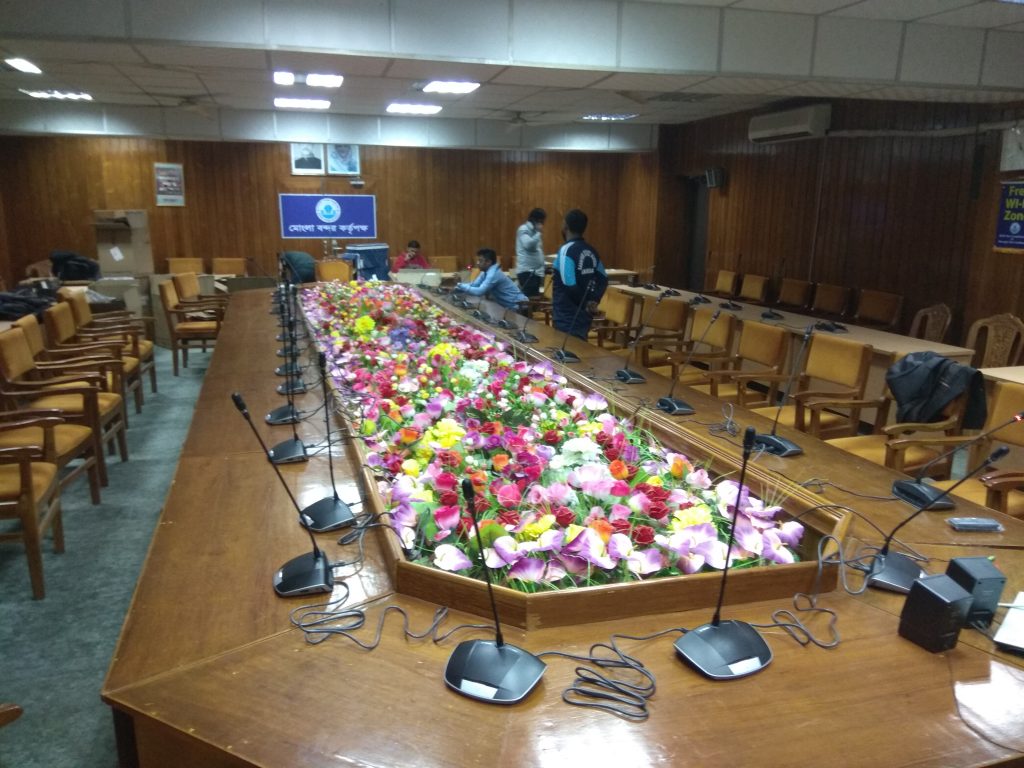 Extremely reliable:
Superior materials and component choices together with extensive quality assurance processes ensure that users enjoy free-flowing, highly-productive meetings, while dealers and rental companies benefit from lower call-back costs and higher customer satisfaction.
Control Unit:
• Supplies power to all system elements – up to 80 Discussion Devices per Control Unit
• Intuitive control of microphone operating mode and loudspeaker volume via front panel capacitive buttons
• Advanced configuration and control via built-in web browser and tablet
• Native support for automatic HD camera control
• Internal recording for up to eight hours
• External recording via USB up to 128 GB (>4,000 hours)
• Built-in Digital Acoustic Feedback Suppression (DAFS)
• Optimized for courtroom usage with four individual microphone outputs
• Built-in loudspeaker and headphone socket for monitoring the proceedings
• Energy saving mode for cost minimization and prolonged lifetime
BOSCH DICENTIS Wireless Conference System is a fully wireless conference system. This is the latest technology of the Bosch conference system.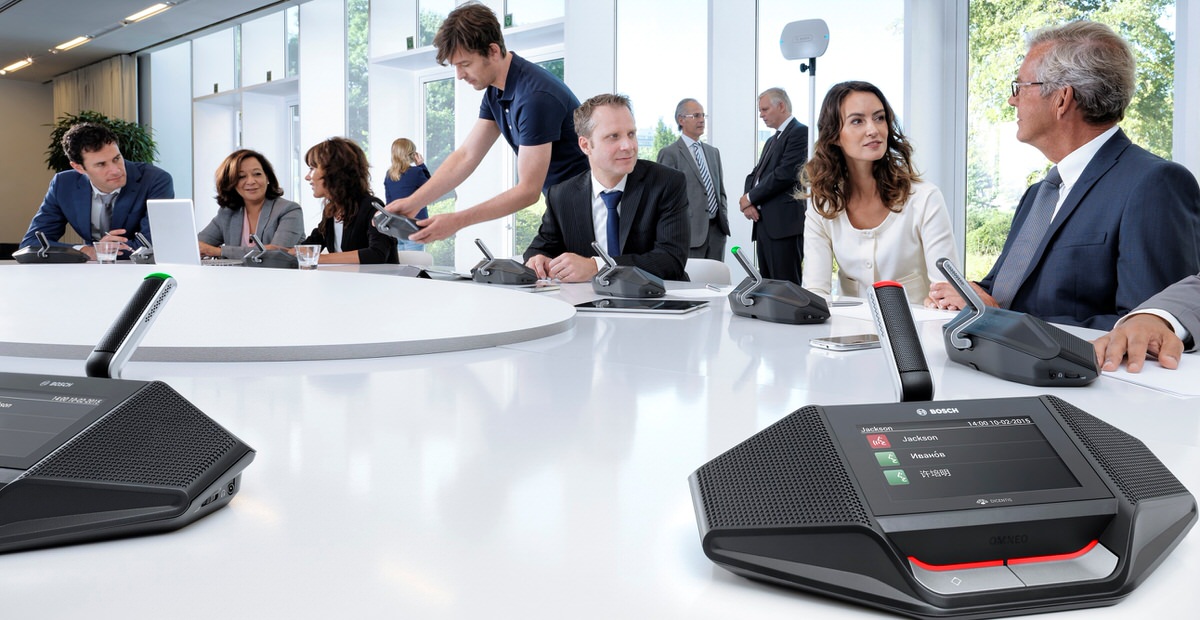 The Bosch DCNM-WD is a wireless device for use with the DICENTIS Wireless Conference System. The DCNMWD enables participants to speak, register a request-to-speak, and listen to the speaker during a meeting via the built-in loudspeaker or headphones.
The loudspeaker and microphone can be active at the same time for a face‑to‑face meeting experience. The sound is crystal‑clear due to a very high signal‑to‑noise ratio and smart frequency selection. To prevent acoustic feedback, a feedback suppressor is built‑in.
The device can be easily configured as a single-use, dual-use, or chairperson Wireless Device via the web interface of the Wireless Access Point (DCNM-WAP).
General Features
Possible‑to‑speak and request‑to‑speak indication in microphone.
Single‑use, dual-use or chairperson can be configured via the web interface.
Audio mute button.
Operating in the 2.4 GHz and 5 GHz (UNII1, 2 (extended), and 3) (license free) band.
Based on standard WiFi.
Seamless automatic frequency channel switching.
WiFi coverage area range test.
Packet Loss Concealment.
WPA2 encryption prevents eavesdropping and unauthorized access.
A socket is provided to connect the microphone to either DCNM‑HDMIC, DCNM‑MICS, or DCNM‑MICL, all available separately.