A video doorbell or a video door phone is a security system that lets the home owner look at the people at their gate over video, talk to them to confirm their identity and then allow access to the house via opening the door over remote control. It is a very modern system of home and office security. The introduction of video doorbells in Bangladesh is quite recent.
How does video calling bell works?
The video doorbell system consists of a full-fledged intercom system, complete with a camera, speaker, microphone and bell outside the house at the gate. The home owner can look outside the house and talk to the people there without opening the door. The camera provides sight and the speaker and microphone allow the user to communicate. Anyone who visits can ring the doorbell, letting the home owner assess whether to let them in or not, and can open the door by remote control.
What can ensure security with Video Door Phone?
The combination of audio and visual information from the door adds multiple layers of security. This lets the owner interact with the people at their door as if they were talking face to face without any risk of them entering the house or building. The added feature of opening the door by remote control is both good for security and a big convenience. Some video doorbells have extra features added into them. These include multiple indoor answering stations, taking photos, recording video, auto-record video and message when door is not answered, etc. All these give the user a lot of freedom and versatility in using the product, and ensuring audio and video evidence of any events that may occur.
Top Brands and Model:
Opiz Video Door:
Shenzhen OPIZ Electronics CO., LTD is a Chinese company that specializes in advanced intercom systems. Their lineup includes numerous models of intercoms, with audiovisual functionality. These are of different sizes and scales, each model having a definite place in the market.  Their solutions include all the basic features needed for security, some even including infrared night cameras for proper video at night if the outside lighting isn't sufficient. The quality of these products are impeccable and are both ISO:9001 and ISO:14001 certified.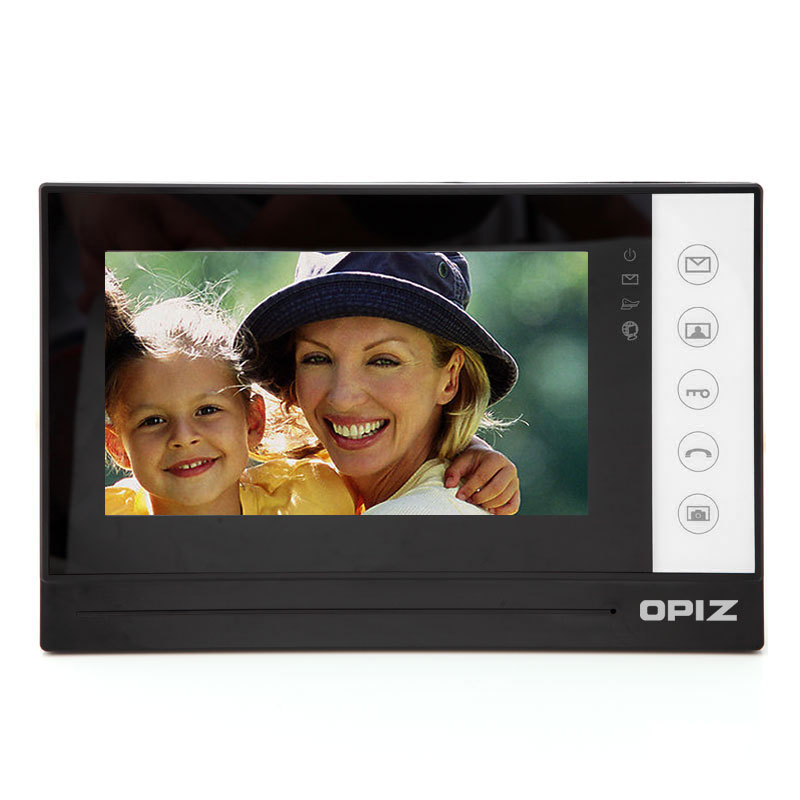 Size:255 x 165 x 35mm
NW:360g
Views:5106
FUNCTIONS:
 Two way communication.
 Remote unlock.
 Monitoring.
 Take photos.
 Video record.
 Auto-record video and message when no answer.
 Check time and date.
 Max is 1outdoor station with 3 indoor monitors.
 12ringing tone for option.
 Indoor phones can call each other.
Technical data
Temperature -40℃~70℃
Relative humidity 45%~95%
Atmospheric pressure 86Kpa~108Kpa
Fire endurance rating IP33 (China standard)
Working voltage DC13.5V
Static current 130mA
Working current 600mA
Screen 7 inch LCD
Dimension 220*165*35mm
Installation size Wall mounted
N.W 360g
Size:170*105*55mm
NW:260g
Functions
 Two way communication
 Transmit video image
 power indicator
 Night camera infrared automatic compensation
Technical data
Temperature -40℃~70℃
Relative humidity 45%~95%
Atmospheric pressure 86Kpa~108Kpa
Fire endurance rating IP33
Working voltage DC13V
Static current 0.17mA
Working current 60mA
Camera Color 420L; B/W 480L
Dimension 170×105×55mm
Installation size Wall mounted
N.W 260g
Where you can find Video Door Phone in Bangladesh?
Olefins Trade Corporation has brought digital calling bell or video doorbells in Bangladesh and are supplying in all quantities. They directly import these products from the major manufacturers. They currently are supplying the OP-D6A8M and OP-D6D10-2 models of video door phones. Both these products include night vision via infrared. The D6A8M also lets the user install multiple indoor stations from where they can answer and even an auto-recording system when the door is not answered. Olefins Trade Corporation supplies these video calling bells at the best prices in Bangladesh. The combination of a very reasonable price and excellent post-sales service makes Olefins the best place to buy a video doorbell in Bangladesh.
---
---