We are newly introducing Terysafe brand Eye Washer in Bangladesh Market. It's international certified brand also reasonable price. All product are certified by the European Directive that meets 89/686/EEC and ANSI Z358. 1-2004, DIN 12899 Standard.  Our product are widely applied in the chemical process industry, mining & oil Industries, Paper mills, construction, laboratories, pharmaceuticals process, public utilities and hard working condition environment. The product are earning high reputation among the local & abroad customers in over the world.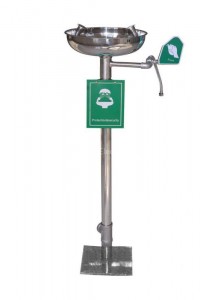 Model No.:SS-E150
Brand:Terysafe
Piping Material:Stainless Steel 304
Eyewash Bowl:Stainless Steel 304
Eyewash Head:Twin sprayer with dust cover
Eyewash Valve 1/2":Stainless Steel 304 Ball Valve
Eyewash Activation:By flag handle, operating a stay open ball valve
Foot Treadle:Yes
Strainer:Yes
Supply Connection:1-1/2" IPS
Waste Connection:1-1/4" IPS
Universal Emergency Sign:Yes
Yellow Warning Tape: No
Water Working Pressure:0.2-0.6MPA, Flow Control: 12L/Min.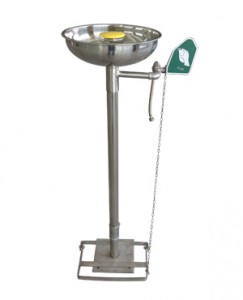 1. Brand: Terysafe
2. Model: SS-E150A
3. Piping Material: Stainless Steel 304.
4.Eyewash Bowl: Stainless Steel 304.
5.Eyewash Head: Central Sprayers with ABS dust cover.
6.Eyewash Valve: 1/2″ Stainless Steel 304 ball valve.
7.Eyewash Activation: By push handle or foot pedal.
8.Water Supply: 1/2"IPS   Outlet: 1-1/4"IPS.
9.Flow Control:12L/Min.
10.Water Working Pressure: 0.2-0.6MPA
11.Package: Carton Size: 91X45X28CM
G.W.:11KG  N.W.:10KG